The 17th International Conference on Brain Tumor Research and Therapy
CONFERENCE INFORMATIION
Registration Desk

The Registration Desk is located on the 2nd floor of the Hakodate Onuma Prince Hotel. The Registration Desk will be open at the following times:

June 9 (Mon) 14:00-21:00
June 10 (Tue) 8:00-17:00
June 11 (Wed) 8:00-16:00
June 12 (Thu) 8:00-16:00

Travel Desk

The Travel Desk will be located next to the Registration Desk to assist you with any transportation questions you might have. Also, if you are interested in sightseeing information, changing flight departure dates, or general travel information, please direct your inquiries to the Travel Desk.

Name Tags

Please wear your Name Tag at all times. Accompanying persons will not be allowed into the Scientific Sessions.

Internet Access

Internet access is available only in the following rooms.

Internet Room (1F) – available 24 hours
Poster Viewing Room (3F) – 8:00-16:00
Prince Hall lobby area (3F) – 8:00-16:00
Internet Room (3F) – 8:00-16:00

Internet access is not available in each sleeping room.

Shuttle Bus (between Hakodate Airport and the Hotel)

The schedule for the Shuttle Bus to and from the hotel is provided on the conference Website of transportation.

Shuttle bus service is free of charge for the following dates:
Arriving: participants who arrive Hakodate on June 9 are arranged by the Secretariat.
Returning: Participants who leave Onuma on both dates of June 12 and 13 are also arranged by the Secretariat.
Shuttle bus service is not free of charge except the above dates, and you are required to pay for fare of ¥1,000 one way. There will be no English-speaking service available.
Please be noted that the shuttle bus stop at Hakodate Airport is No. 2.

Dress Code

It is casual and no need to wear a tie during the conference.

Meals

The Hakodate Onuma Prince Hotel will be exclusively reserved for conference use for the full duration of the conference. Thus, the restaurants will not be open for regular business. Meals for the duration of the conference (excluding the Farewell Dinner on Thursday, June 12) will be prepared to cater for the number of participants present. This necessitates your participation in each day's social program.
If you have any concerns about this arrangement, please contact the Registration Desk in advance.
---
OTHERS
Exchanging Money

This is to advise you that the hotel will exchange only the currency of Dollar
into Yen and will exchange the amount of $500 at one time. Participants who are expected to spend money in cash, we recommend you to exchange some money at International Airports on your first stop to Japan. Of course, your credit cards will be accepted, but please noted that some shops in countryside may not be accepted.

Weather in Hakodate

The temperatures in Hakodate in June are: average high 66F (18.9C) and low 52F (11.1C). We recommend you to bring a jacket or sweater for a sightseeing or night tour. Hokkaido has no rainy season while the rest of the Japanese islands have it in June.

Below is the website of Hakodate

We wish you a safe and comfortable journey to Japan!!
---
I.Instructions for ORAL Presentation
All the speakers are requested to keep to the time previously allotted for each.
Green and Orange lamps will tell you how much time is remaining in your presentation. A green lamp will indicate when one minute remains, while an orange lamp will light up when no time remains.
All presentations will be done on PC.
Please bring your own PC and a backup of your data.
The only PC media that will be available are CD-R and USB Memory.
PCs with Windows XP and PowerPoint 2003 are to be used.
PCs with Macintosh OS X and PowerPoint 2004 are to be used.
Windows Vista / Macintosh Users: Please bring your own computer for your presentation.
Animation and sound functions will be available. If your presentation data is in PC media, please make sure that the data is compatible with Media Player for Windows or Quick Time for Macintosh. Standard PC fonts (for Windows or Macintosh) should be used.
If you are using your own PC, please make sure to bring an AC adaptor (standard 2-pin type). For projector output purposes, a VGA cable will be provided. Please confirm whether your PC is equipped with an RGB jack (mini D-sub 15 pin type) as standard. If you use a different type of RGB jack to connect to an external monitor, please bring it with you. XGA (1024x768) is the suitable monitor size. For proper data projection, please adjust your screen setting to XGA. Please cancel your screen saver and power saving settings in advance, especially if your data includes video image and sound.
Please bring your PC or PC data to the PC Preview Desk in front of the presentation room at least 30 minutes prior to your presentation to register and submit it to test the connection and view your file.
We will issue a receipt after checking your data. Please exchange the receipt for your PC at the Operator's desk, beside the stage.
Please use the mouse and keyboard on the podium for your presentation. You are required to handle your data yourself, using the mouse and keyboard connected to the PC.
The copied data for your presentation will be deleted by the secretariat after the Conference.
II.Instructions for the POSTER presentation
Presenters should prepare for slides for platform presentation in addition to the poster.
1.Poster
Presenters are requested to follow the schedule below when mounting their poster on their assigned board.
Mounting:June 10(Tue)8:00-16:00
Removal:June 12(Thu)12:30-16:00
Posters
90cm wide x 180cm high
Your poster presentation number will be posted on your assigned board.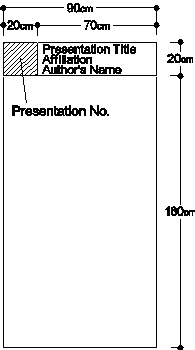 2. Platform Presentation
Please prepare 4 slides for platform presentation as detailed below. The presentation time is 3 minutes. Presentations are conducted in the Platform Presentation Room.
1st slide:

Title

2nd – 4th slides:

Presentation content
Please refer to section (I) above for the data creation method.
Note:

All the authors with posters must summarize their paper in the poster presentation session.